Last month, MedStack was invited to participate in the TELUS / FIRSTEP program, an initiative that aims to help healthcare innovators and entrepreneurs gain fresh insights on how disruptive forces can impact their success, leveraging TELUS' extensive experience in the application of healthcare technology in Canada.
MedStack CEO Balaji Gopalan traveled to Vancouver to met with TELUS Health's Chief Innovation Officer Brendan Byrne and other executives. Over the course of two days, they discussed the fundamental assumptions underlying MedStack's strategy to empower healthcare institutions' and system's adoption of applications as tools for care, such as the standardization and evolution of security frameworks, the role of EHRs and their vendors in the ecosystem, the hierarchy of trust as extended from developers to providers to patients, the evolution of regulatory standards and the maturity of messaging technologies.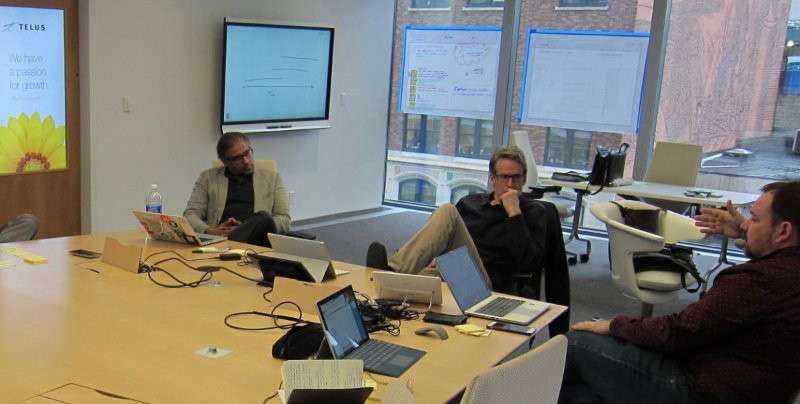 What did we learn?
We were encouraged that the challenges and motivations that have inspired us to create MedStack are reflected in the strategic conversations at an industry participant like TELUS. It was apparent that MedStack had been invited to participate in this exclusive program because, like us, they believe in the important role of ecosystems in driving innovation within healthcare, particularly as the lines between technology-powered Betterment, Wellness and Healthcare continue to blur.
The existence of these forces can, in some dimensions, accelerate the realization of our vision at MedStack and in others present challenges. Their very existence proves how exciting and dynamic this industry opportunity is. Balaji came away excited and inspired, itemizing what we should keep an eye on, what we should reframe and what we should emphasize and lead. These learnings will play a key role in the development of MedStack's forward-looking roadmap.
We would like to thank TELUS Health and FIRSTEP for this opportunity. We look forward to working with them and explore additional collaborations along with our other developer, innovator, and provider partners.
Would you like to learn more about our thoughts on collaboration between digital innovators and healthcare providers? Contact us at info@medstack.co.