Balaji here with a quick update on product development at MedStack:
At Collision, we announced the public beta launch of Medstack Control, our next-generation platform that features real-time infrastructure and networking configuration management integrated with our proven healthcare privacy and security frameworks.  MedStack Control is built atop the power of industry-standard container systems and represents a workflow optimized with experience we've gained supporting many digital health projects over the years.
I'm pleased to inform our followers that MedStack Control is less than a month away from being feature complete and ready to support live healthcare data generated and managed in healthcare apps.  We've been working with a handful of carefully-selected beta clients to refine the experience and architecture over the past several months, and are nearly complete the final development work in the Active Monitoring interface, user experience refinements, onboarding workflow and the disaster recovery system.
General availability is coming soon.  Please sign up here for MedStack Control.  Also, our User documentation is now live, you can check it out here.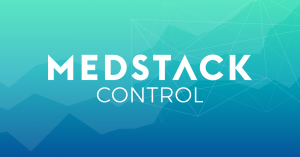 We've also been hard at work on industry certifications for our privacy and security frameworks. We've been taking a systematic approach to evidence review, leveraging our Active Compliance system to deliver real-time auditable proof-points of how our infrastructure deployments meet the requirements. We are most of the way through the submissions and are excited to announce certification later this year. And of course because our approach to certification is based on Active Compliance, our vision is to achieve it in a manner that in turn makes it easier and faster for all MedStack clients to achieve certification themselves.
As always, we continue to work with our clients to improve the onboarding and operational experience with the existing MedStack platform.  We've made and are refining a number of procedural improvements in the way we receive, triage and prioritize client requests for technical changes to their various infrastructure deployments.  In addition, we are planning several improvements to the onboarding experience for new clients, paired with the release of a new series of knowledge content and documentation.
Stay tuned for more updates by following us on social media through Twitter and LinkedIn. We look forward to sharing with you our continued work and progress to bring healthcare innovations to market faster.