Last week, on March 21, 2019, we attended University of Toronto's True Blue Expo, an annual showcase of everything related to entrepreneurship and the capstone event to their Entrepreneurship Week. There were over 60 U of T startups in attendance, ranging from AI, health, cleantech, and information technology startups. The event took place at MaRS Discovery District and a bustling energy encompassed the building.
We covered our booth with swag including stickers, business cards, postcards, our product one-pagers and much more. We had two large banners set up that instantly drew the attention of attendees and over the course of the day we chatted about our startup, digital health, and entrepreneurship. Balaji Gopalan, our CEO, talked passionately about entrepreneurship. He tells of how "It's both scary and fulfilling. Everything about a startup is surprising. There's new partners, opportunities; it changes everyday."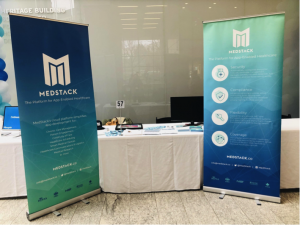 MedStack's booth at True Blue Expo
It was amazing to see the diversity of people in attendance, as we talked to students, entrepreneurs, and investors. We networked with over 100 people, each of them interested in the future of health and how we solve it. We also met with various non-profit, government, and funding groups curious about our business and solving the challenges of the digital health space. During each interaction with attendees, we received lots of encouraging words as people recognized our name and brand, giving us great feedback and praise on our mission to help healthcare innovators bring better outcomes to patients and healthcare professionals.
Currently, hospitals and clinics still rely predominantly on paper charts and verbal information. MedStack helps bring application ecosystems and the power of the developer and startup community to empower healthcare enterprises. Our platform onboards digital innovations faster, allowing developers to meet all of healthcare's privacy, security, and interoperability needs. At the Expo, we connected with many other startups pursuing digital health innovations in need of integrating their platform to meet such privacy and compliance standards.
Toronto is truly filled with many startups intent on tackling the challenges of the healthcare industry. Of the 60 startups present, over 10 were pursuing a healthtech innovation. The event saw two health startups win 1st place for RBC's Prize for Innovation and Entrepreneurship: BoneTape, a medical device for craniomaxillofacial fracture fixation won in the Early Stage Category and Nanology Labs, inventor of a non-toxic MRI contrast agent won the Later Stage Category. Another entrant was Mutuo Health, an AI platform that enables the automatic recording of high quality data between patients and clinicians also participated in the competition.  It was a great day to celebrate the thought leaders and innovators in digital health and for us to network and share MedStack's mission and values with the community.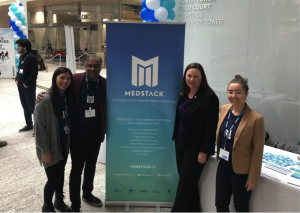 The MedStack team with Waterloo MPP Catherine Fife
If you are passionate about health innovation and health data, working for a startup, and joining an amazing community, reach out and follow us on social media. Note as well that MedStack is currently hiring back-end devops developers and for our sales and marketing teams, and watch for us this summer at Toronto's Health Innovation Week, Collision, and True North. Join us on our journey to solve the world's biggest problem and make an impact.