I couldn't be happier to unveil what our amazing Engineering team has been working on for the better part of this year, a complete reinvention of the MedStack experience to be more robust, scalable and powerful for the community of healthtech developers. Introducing MedStack Control.
What we've learned from our customers
The best part of what we do at MedStack is that we help digital health innovators, working at the bleeding edge of technology, bring their inventions to market faster via the removal of risk and complexity. The proposition has enabled us to work with a large number of companies over the past couple years in helping them consistently meet the privacy and security expectations of the healthcare industry and the customers they service.
As one would expect, these engagements have given us a great opportunity to learn about how our proposition is understood, what the user experience is like in practice, and what works, what delights and what we should work to improve.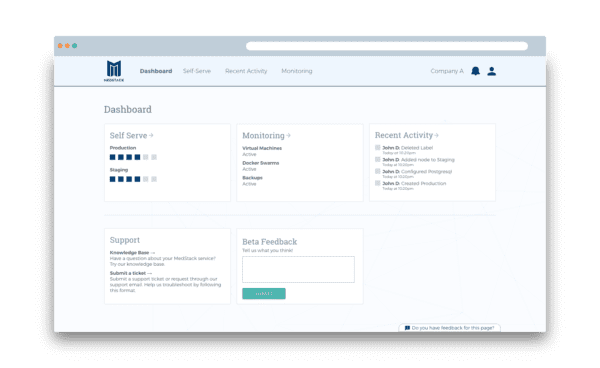 A new look at MedStack's technology
MedStack's core proposition is that our privacy and security protocols are pre-built into the infrastructure and services management automation that we run on behalf of our customers, allowing them to focus on application features, user experience and data intelligence to deliver their businesses without worrying about maintaining or breaking compliance. However, our architecture approach does require that our team, with lower-level access to infrastructure configuration, to make tweaks on such things as server size, network settings and libraries on behalf of our customers on request. We have learned now that as our customers grow, their need to constantly iterate on these settings increases in frequency.
As such, we've spent many months thinking through the best way to empower our customers' technical teams with more real-time control and efficiency, while not burdening them with challenges of building and maintaining the ever-more-complex compliance requirements themselves. The result of this exercise is the all-new MedStack Control.
What is MedStack Control?
MedStack Control presents the first real visual experience for MedStack. A dashboard leveraging the power of Docker Swarm, one of the industry's most powerful new open source container clustering and orchestration tools, MedStack Control enables application developers to:
Self-configure virtual containers for application code, load balancers, MedStack-managed databases, and caching servers
Manage network settings directly
Scale container clusters in real time as per their requirements
All this happens automatically and without asynchronous requests to MedStack support.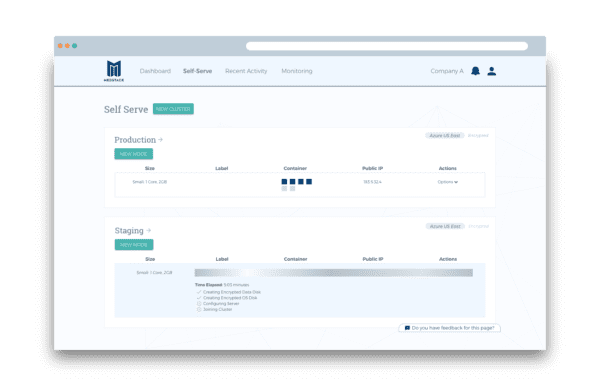 Why did we choose Docker Swarm? We are taking advantage of how it enables application architectures to be spread across containers, while also supporting hot-swapping to ensure continued availability and uptime, even while application code and network configurations are updated and modified. Specifically, Docker Swarm is widely acknowledged to be very easy to use for developers, and has been demonstrated to support be massive scalability. This is especially critical for patient-centric healthcare technology, where uptime reliability directly affects care delivery.
MedStack Control not only features completely autonomous secure account creation, but also introduces self-management of roles, organizational hierarchies and permissions for both billing and infrastructure access so that teams can collaborate on the management of their MedStack infrastructure. The entire experience is fronted by industry-standard two-factor authentication security.
MedStack Control also acts as the launchpad for our newly redesigned Monitoring system, now with a cleaner look and featuring real-time alerts and continued support for our system indicators:
Server availability indicators
Backup success timestamps
Certificate expiry warnings
Performance trend and threshold visualizations for CPU, memory and disk usage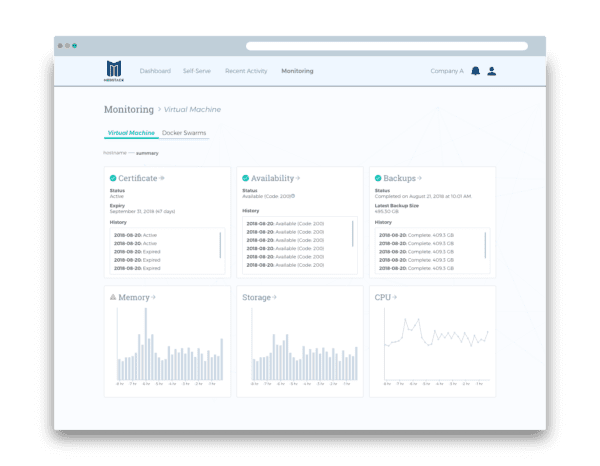 No-compromise and fully-managed HIPAA healthcare privacy compliance
Best of all, the introduction of the new MedStack Control increases high standards of healthcare privacy compliance and data security we've already set and deliver to our existing customers. Customers implementing via MedStack Control still have the advantage of privacy and security features we currently offer, such as:
Segregated Virtual Private Cloud (VPC) architecture
Built-in and fully-managed encryption at rest and in transit
Encrypted virtual LAN traffic
Network and port security
Scheduled and encrypted data backups
Audit logging
As always our fully locked down, fully-managed security technology is tied line-by-line, feature-by-feature to our auditable privacy and security policies which are always delivered free with a MedStack subscription and form the basis of our customers' own policies and procedures.
With MedStack Control, we've brought together real-time developer control, hands-on access, fully-managed infrastructure data security and the highest standards of demonstrable privacy compliance and auditable policies into a single offering — without compromise.
Medstack Control is being rolled out in beta to a few initial customers within the coming weeks, with broader availability to new and existing MedStack customers this winter. We are very proud of what we've built and how we plan to expand on it over the coming year. MedStack Control is going to enable an even larger, more diverse ecosystem of digital health innovators. We can't wait to hear what you think.