Our Co-Founders, Simon and Balaji, attended the IHE North American Connectathon in Cleveland, Ohio from January 23–27. MedStack's co-founders got their hands dirty and worked with fellow Connectathon participants to test new ways to implement interoperable systems.
At the Connectathon, we got the chance to work with Philips Health by hosting data from a patient monitor on our HIPAA-compliant FHIR Database. It was great to test and experiment with devices and products.
Really fun working w @PhilipsHealthNA at the @HIMSS #Connectathon to demo data from a patient monitor to our hosted #HIPAA #FHIR database pic.twitter.com/X2eQy59eRk

— MedStack, Inc. (@MedStack) January 25, 2017
We also got the chance to meet health technology innovators from around the world. Below is Balaji with Hyoungho Do from Kyongpook National University, South Korea. Hyoungho is holding a digital pill dispenser that attaches to variable pill modules.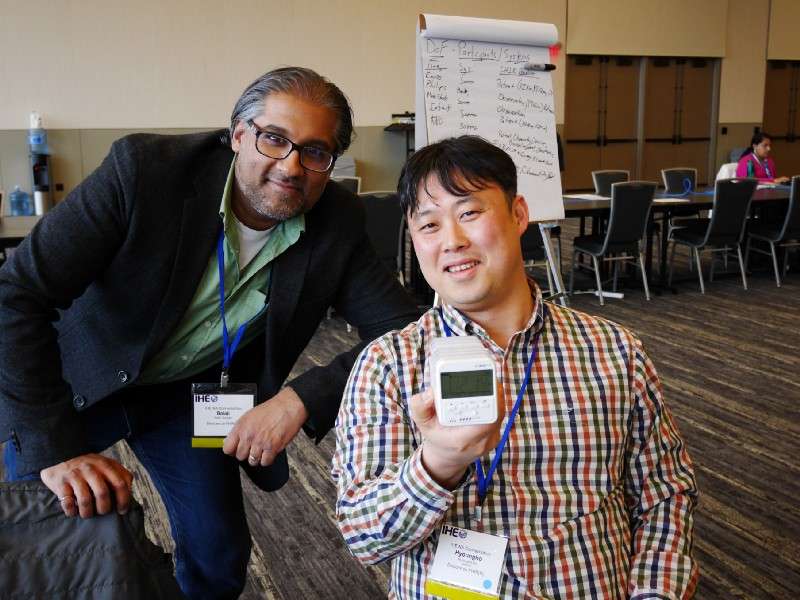 What is a Connectathon?
A Connectahon is an opportunity to gather with other developers to test and build new technologies. In the case of the IHE Connectathon, health technology innovators were able to test health IT interoperability implementation profiles with other vendors and developer teams in a controlled environment.
What is Interoperability?
Simply put, health IT interoperability is the ability for different IT systems and device to exchange data. HIMSS states that these systems " must be able to exchange data and subsequently present that data such that it can be understood by a user."
Interoperability is a complex topic and one that is increasingly being discussed among health IT experts. Data standards, such as HL7 FHIR® (a.k.a the Fast Health Interoperability Resource), are used to facilitate data exchange and communication between health IT systems.
Why is this important?
Many health IT systems, from large enterprise electronic medical record systems (EMR) to small patient-facing mobile apps, require data exchange across systems to improve clinical processes and delivery of care. For example, a symptom tracking app that is not connected to an EMR stores data only within it's own systems. This means that healthcare professionals are missing key pieces of information that can help them improve their patient's care plan and will have to rely on patients informing them during appointments.
Similarly, patients who want to read their doctor's notes from their personal health records app won't be able to do so because their app does not communicate with their doctor's medical record system. In both cases, interoperability can help the apps exchange and display healthcare information that are useful and important for patients and their healthcare providers. These are two very simple examples of how interoperability can streamline and improve healthcare.
Standards like FHIR® provide the "language" that allows different systems to communicate. Many health IT systems are moving towards implementing FHIR® to facilitate more connections and data exchange with third-party systems and devices. Products like MedStack's FHIR® Database API make it easy for development teams to implement the standard within their product. To learn more our FHIR® Database, email us at info@medstack.co.