Every week, MedStack has a company-wide meeting where anyone on our team, no matter their role, is encouraged to share what they have been working on. This ritual allows us an opportunity to connect as a group, which is essential at a remote company, as well as bridge the gap between the day-to-days of our business and engineering teams.
This page is a recap of each demo hour we had in February, one of the highlights of working at MedStack.
February 4
Our first demo hour of the month started strong with our Director of Marketing presenting the new employee onboarding content implemented as part of our company-wide project to keep levelling up our team experience.

Next, our new Director of Partnerships presented her ambitious 30/60/90-day goals to formalize and integrate her function across the company. 30/60/90s are done by every new member of the MedStack team to help them get some early wins and hit the ground running.

The engineering team showed off a clever new testing model and feature implementation guide for our new app architecture, as well as more pages migrated to the new model. It was incredible to see how fast they are!
Our Security Engineering Program Manager then unveiled her new process and onboarding document for production system support, and formalized the steps to reach our incredibly high bar for security access. 
It was also a big week for the product team, who debuted the initial proof-of-concept and API testing for one of the biggest technical product evolutions we've ever done. Our Product Manager also reviewed the customer integration guide of a new feature we are about to roll out. To be the first to hear about new features as they are introduced, subscribe to our newsletter!
Next, Sales demoed a deep statistical analysis of lead source quality and conversion funnels to quantify the effectiveness of our channel diversification. We also all shared in the celebration and learnings of one of the biggest sales we've ever accomplished, and what it means for our expanding offer. 
Our Technology Lead shared his thoughts on how the decision of our technical work and responsibilities, and cross-sharing, paired with the growing maturity of our onboarding processes, can support our rapidly-expanding technology team. 
Finally, our CTO treated us all to a dug-from-the-vaults video of our CEO singing karaoke. Who says all demos have to be work-related?
February 11
This week's demo hour started with the surprise reveal of a "new" team member, a Software Engineer that has returned to MedStack after pursuing entrepreneurship ambitions. 
Our Product Manager unveiled his plan for some direct user testing and feedback research on a new feature we've been working on, as part of our ongoing commitment to provide the best user experience possible for our customers. 
Next, our new Content Marketing Manager presented some new branding assets for an exciting new look on some of our company content. Marketing also announced our operational plans and KPIs for industry events in the coming weeks.
Our CTO treated the team to some brainstorming and vision exploration he's been doing on the longer-term direction of the product experience, which included many exciting and unique innovations. 
Our Engineering Security Program Manager announced the completion of her first 90 days with the company, and how she did on her 30/60/90 plan. Nobody was surprised to see she accomplished her goals, and more. 
Sales introduced two new customers this week, as well as a new workflow for objection handling in our CRM (Customer Relationship Management) tool. 
Engineering closed out the meeting with further progress on our major new architectural initiative, demonstrating some new configuration workflows.
February 18
We started this week with a surprise for our prank-loving Application Support Engineer on his birthday, and our CEO announced a new hire.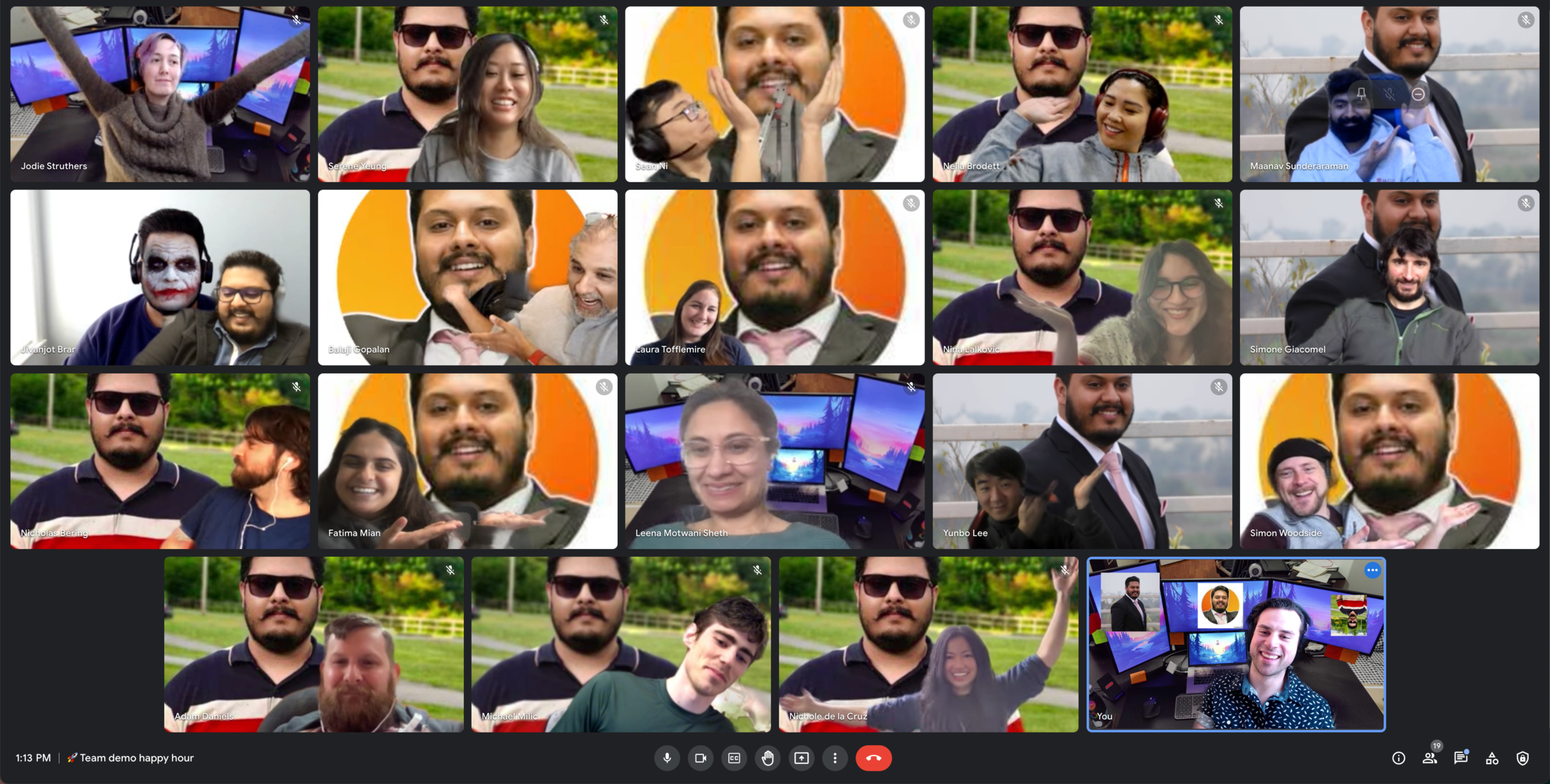 Our Director of Partnerships revealed her carefully-curated and detailed lifecycle workflow for our partnerships business. 
Next, our Content Marketing Manager revealed our thorough new brand guidelines, and the marketing team shared some updates on recent publications to our content pipeline. 
Engineering had two demos this week. The first was an elegant invention focused on automation in the secure authentication realm to further elevate our recent system application re-architecture. The second was a set of beautiful UI mockups for the new feature our Product Manager had summarized last week.
February 25
Despite it being a short week due to the Canadian Family Day long weekend, our team had lots to share.
First, our marketing team walked us through their new project tracker, as well as their reconfigured content calendar. 
Next, our sales team revealed some ideas for an updated onboarding and planning template for new hires, as well as the next evolution in our ongoing revenue tracking system. 
Engineering then provided an update on the UX development of some new account system features. 
We closed off the meeting by having a discussion about many industry goings-on in the security realm, and saying hello to our amazing new Director of Engineering.
If you want to join the fun, check out the roles we're hiring for in our Sales and Engineering departments.