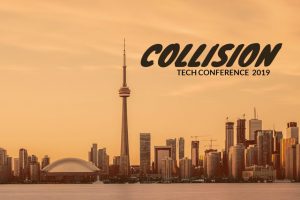 This week, MedStack is at Collision, the fastest-growing tech conference in the world. For the very first time, Collision is coming to Toronto, and we celebrate our home town's important and growing presence on the world stage as an innovation capital, picking up on the news that Toronto's ecosystem is growing in tech jobs faster than anywhere else in the world.
Collision features seventeen tracks (sub-conferences) , focused on industry vertical and business topics on vehicles, the environment, financial services, advertising, growth, software development and more. The track for healthcare is HealthConf, gathering leading medtech innovators, industry giants, and startups each leveraging innovation and tech to help humanity live better lives.
Collision is expected to draw in more than 25,000 attendees over the next three days at Toronto's Enercare Centre. We are at Booth E234, directly in front of the healthcare stage for all three days. Our booth is co-located with an island featuring eight of our digital health innovator clients, coming from across Canada and the US and representing a wide spectrum of healthcare topics. We are extremely excited to showcase what they do and the breadth of healthcare opportunity they cover between them.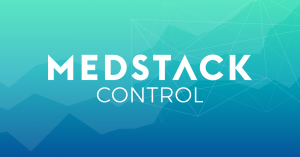 Today we are proud to publicly launch the beta for our new generation platform, MedStack Control. MedStack Control gives healthcare app developers self-serve capabilities to iterate as needed while continuing to deliver on MedStack's core promise of eliminating the complexity of building and maintaining health data security and regulatory compliance.
We created MedStack Control to empower the ecosystem to innovate faster, so that ultimately better and faster care will be more readily accessible to everyone. Innovation in healthcare is challenging, and perhaps one of the most complex fields in which to create change. And yet change is so imperative, particularly because it's one of the few industries that affects every single human being on the planet. Coupled with the rising incidence of chronic disease and an aging global population, this becomes even more urgent.
One of the biggest barriers currently impeding successful healthcare innovation is ensuring data security and privacy, and compliance with the existing systems, structures and policies that involve sensitive patient data. With MedStack Control, we will enable an even larger, more diverse ecosystem of digital health innovators. We already support a wide range of solutions ranging from patient engagement to smart medical devices, chronic condition management, mental health services and healthcare data workflows.
MedStack Control is a complete reinvention of the MedStack experience to be more robust, scalable and powerful for the community of healthtech developers. Under private beta for several months, the product is a culmination of extensive feedback from our existing customers. MedStack Control evolves our proposition across data centres in North America with:
Real-time self-serve management of infrastructure configuration, networking settings and installed libraries via a self-serve dashboard
Hourly usage-based billing, empowering in particular for high-intensity genetics and medical research machine learning applications with fluctuations in computing needs
A redesigned and feature-enhanced Active Compliance Monitoring solution for ongoing operations
User roles-based hierarchy to support growing teams
Please come visit MedStack at Collision and see our new product over the next three days, and view our official Beta Launch announcement here. We are excited to celebrate the successes of all our clients, partners and friends and look forward to seeing you all in attendance.