Last week, from April 1-5, MedStack participated as we do every year in Health Innovation Week, Canada's largest conference for health startups, investors, and the general health community. Health Innovation Week took place across Toronto, primarily at the MaRS Discovery District and allowed participants to network, secure investment funding, and learn from industry experts. Over 4000 attendees, including 300 investors, and 250 speakers participated in more than 30 events throughout the course of the week.
Exhibiting at Health Innovation Week
Coincidentally enough, it was also my official first week starting as MedStack's Social Media and Content Manager. The ever-changing nature of a startup meant doing things untraditionally, and starting my first day right at a conference! I dove right into work, sending social updates and manning our booth at MaRS. The MedStack colours shone brightly at our booth on the second floor, our table covered with swag such as stickers, postcards, product one-pagers, business cards, and more. Our two large banners drew the attention of attendees and passersby who were interested in MedStack. We chatted about our startup, digital health, and entrepreneurship. Medstack brings healthcare innovations to market faster and attendees were excited to learn more.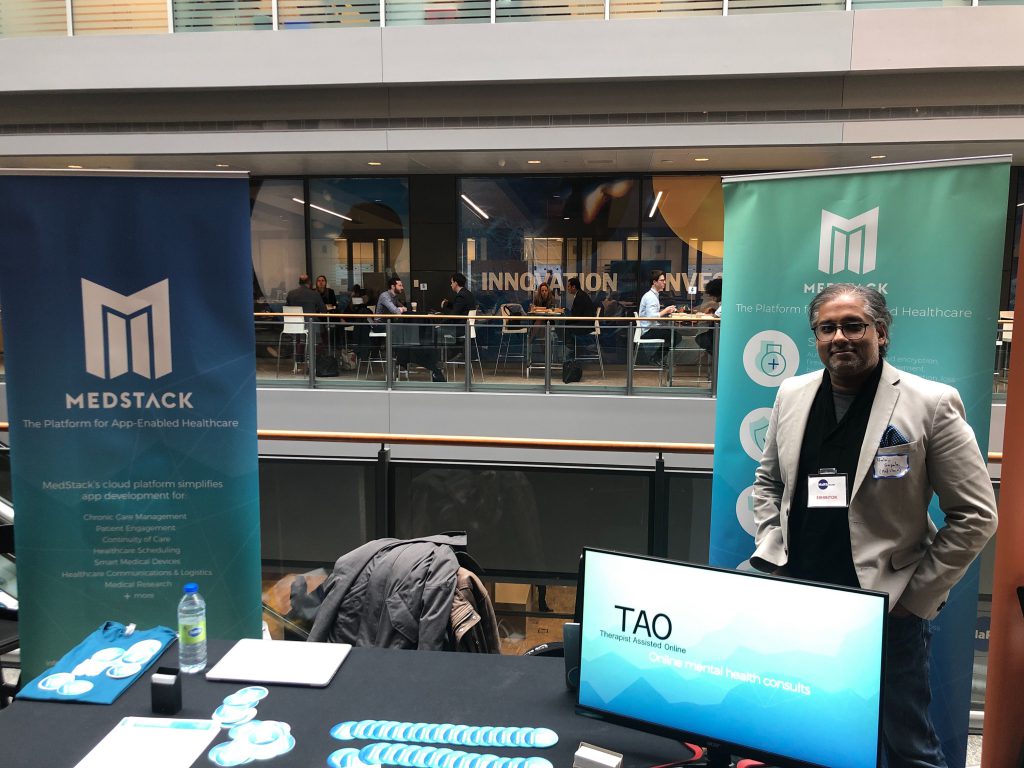 It was great to see the diversity of people in attendance, as our team talked to students, entrepreneurs, investors, and healthcare professionals. Over the course of the week, we networked with over 500 people, many interested in healthcare trends and how new technologies can solve existing problems in the industry. We even met global attendees, participants from Brazil, Netherlands, and Hong Kong, all interested in how MedStack could support privacy, security, and compliance protocols for their healthcare apps. The team received great feedback and praise from many who recognized our brand and identified with the mission to help digital healthcare innovators provide better solutions to healthcare professionals and patients.
Events Attended
On Tuesday, MedStack participated in the Biomedical Zone's Diversifying Healthcare event, a career fair enabling equity-seeking groups to find career opportunities, followed by a panel discussion. We heard from Dr. Linda Maxwell, Dr. Kwame McKenzie, and Dr. Suzanne Stewart, as they discussed the diversity issues in the healthcare sector. Linda Maxwell questioned the current environment and remarked, "Why are [minority and equity groups] standing behind the fence and not in the stands with the fans? The inclusive environment is what's missing from a diverse and equitable healthcare system." To grow and progress the Canadian healthcare ecosystem, it's important to create a diverse and inclusive environment for all voices and ideas to be heard.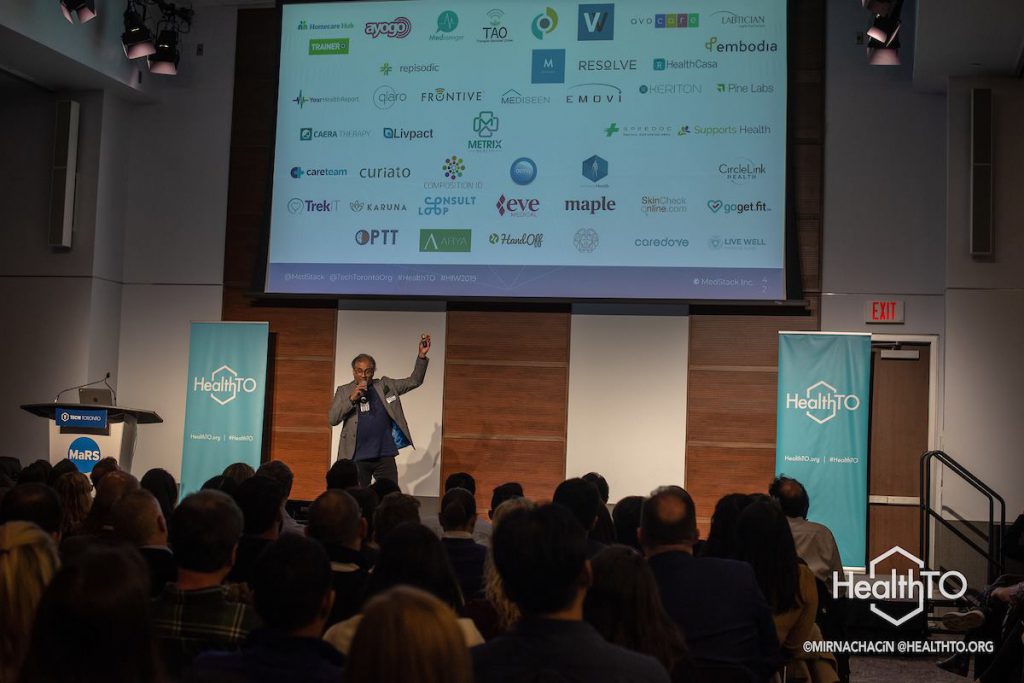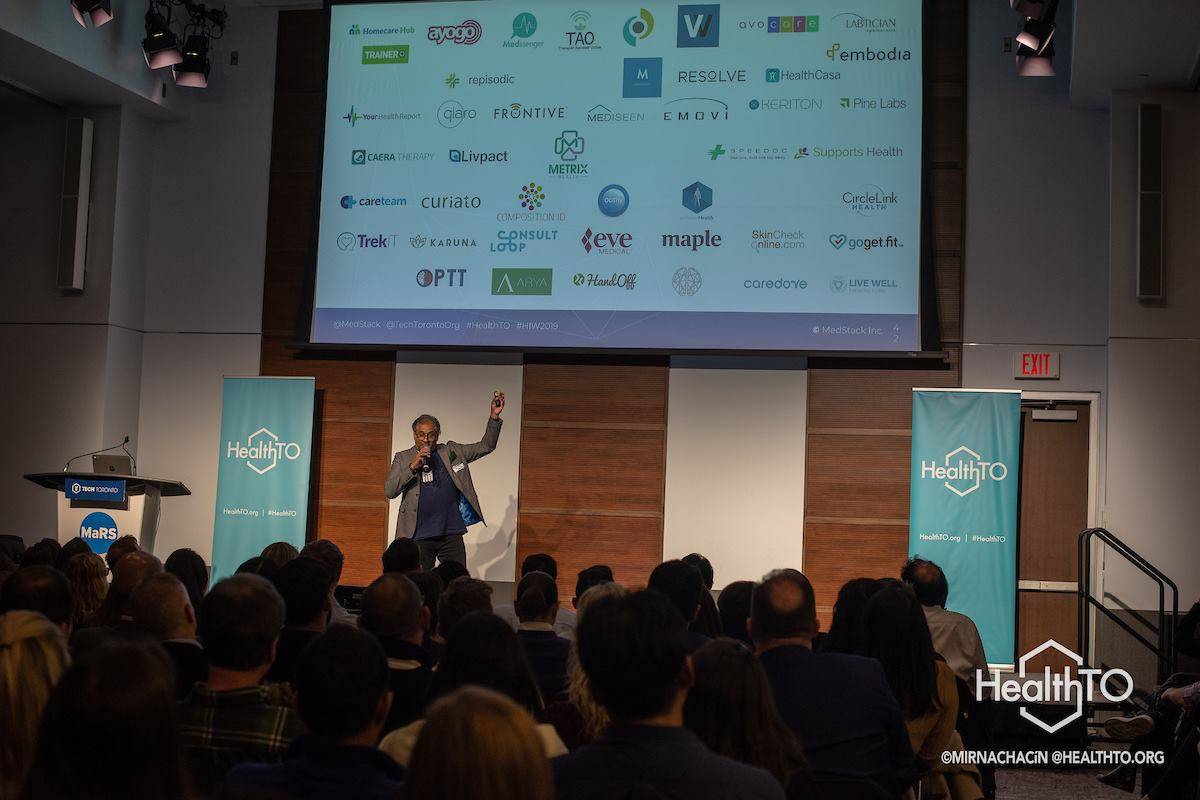 Wednesday night saw the biggest HealthTO meetup to date. HealthTO, run by TechToronto, unites the Toronto healthcare community to discuss topics related to the future of innovation in health and wellness. This April, there were over 400 people in attendance, and MedStack's presence was duly felt. Our CEO, Balaji Gopalan, was one of 10 speakers for the night, in a lineup of thought leaders, CEOs, and founders. Balaji spoke about MedStack, celebrating our fourth birthday that week and recounting lessons learned over the past four years. "We have to accelerate the pace of digital innovation. As entrepreneurs, our duty is to help this world," he spoke passionately. Amongst the other speakers were two of our clients, Dr. Karen Klein of HealthCasa and Dr. Rhea Mehta of Bowhead Health, and several more of our valued clients were exhibiting or in the audience as well. HealthTO was truly a great night to celebrate the thought leaders and innovators in digital health and for us to network and share MedStack's mission and values with the community.
On Thursday, Bal had the opportunity to participate in MediSeen's Ontario Digital Health Founders Dinner. Like-minded founders and investors came together to discuss topics from startup advice to solving healthcare challenges by accelerating the adoption of digital health solutions. We celebrated with colleagues and friends while discussing the importance for digital health companies to collaborate with one another and with the government to transform care delivery. After an action-packed week at Health Innovation Week, on Friday, MedStack sponsored the closing reception. All attendees gathered in the MaRS atrium for beverages and canapes to celebrate the week of inspired talks, discussions and dealmaking.
Reflection and What's Ahead
Health Innovation Week brought together investors, players, and members of the healthcare industry to network and be inspired. Our team connected with many other startups pursuing digital health innovations in need of integrating their platform to meet privacy and compliance standards. As my first week on the job, I learned how MedStack's platform allows digital health solutions to meet healthcare's needs for privacy, security, and interoperability. It was a whirlwind of a week, and truly a great way to start my role. I'm excited to grow with an amazing team, deliver insightful content to our members, and help healthcare enterprises onboard digital innovations faster. Watch for us at upcoming events such as Collision, and True North. Stay connected to MedStack by following us on social media and joining us on our journey to improve the healthcare industry.