One of the best aspects about what I do every day is the constant reminder at all angles that we are knee-deep in the very beginnings of a very large transformation, one as impactful as any other technology-driven disruption we're seeing in other industries. A world in which mental and physical health is improved for more people, in more contexts, faster, with less disruption to the things they wish to do, is, in fact, the most important application goal of technology we can think of.
But such a world won't be possible without multiple degrees of collaboration and intersections of motivations that create just the right catalysts for change. Here's what we see:
Consumers are taking charge of their wellness and disease prevention and, as patients, are managing their own care requirements and plans.
Providers around the world are sharing ideas and collaborating on securely-shared anonymized cases, leveraging the power of AI.
Health systems are connecting their services together to provide better, more continuous experiences.
Big consumer tech companies are leveraging their extensive cloud infrastructures and deep user relationships to build new day-to-day activities that drive these objectives.
But what does it all mean, particularly when it comes to the interaction between these entities? We spend a lot of time thinking about that, and our thesis is this: each element of healthcare, across the spectrums of people's life cycles, the different ways they interact with care and how the data is used, is like a little service organization on its own with its own value proposition dynamic of talent, resources, customer needs and interpretation of value.
As it is with any complex, longstanding and regulated industry, it is an ecosystem of point solutions, built by motivated inventors and interfacing with central data systems that will create the engine of innovation. It's not about one vendor – even the large EHR players are coming around to this idea with ecosystem and app store plays of their own to better capitalize and drive more value out of the data systems they run. Each of these companies, many of them startups, goes deep to deliver the best user experience, often with a transformative user interface and smarter decision-making through cloud technologies on their target problems.
So we've had this longstanding thesis at MedStack that enabling these "point solutions" is the key to driving transformative experiences in healthcare. What's really amazing, however, is that we're not the only ones who think so.
A few weeks ago I had the opportunity to attend a Healthtech and Urbantech Symposium, hosted by our friends at Dreamit in partnership with BisNow, in lovely Tampa Florida. Dreamit has been a good partner and supporter of MedStack for years now and was a big part of our formative years. At this event, I met some of the fascinating local Florida businesses in digital health, including a focus on such things as senior care and care coordination, and talked to some of the exciting new businesses in the Dreamit family focusing on healthcare, urban technology, and physical and digital security innovations.
What really stood out for me however was a keynote presentation by Sumit Nagpal, the Managing Director and Global Digital Health Lead at Accenture. Sumit did an incredible job of teasing apart all these moving pieces I mention above to succinctly draw one inexplicable conclusion:
Big Tech will come to healthcare, opening up foundational ecosystems that draw upon and enhance the infrastructure of traditional players already in place. This will invite a myriad of smaller players to participate for the benefit of patients, providers, payers and pharma alike.
Don't just take my word for it, here was his conclusion slide: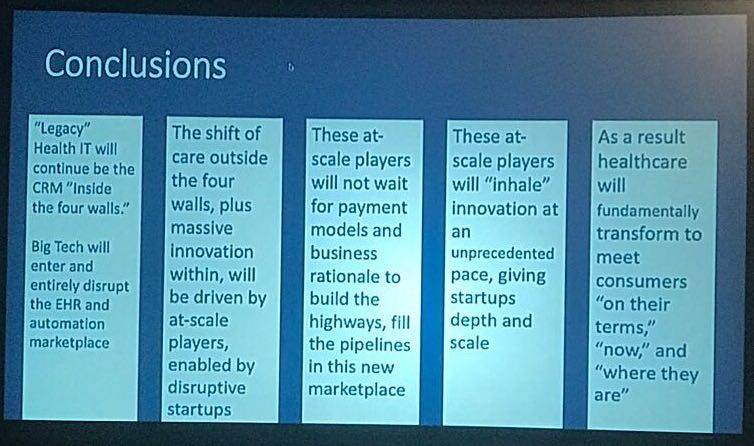 The key takeaway here is that the entire technology industry is turning its attention towards healthcare, and that change is forcing a wake-up call both in terms of defining lines of control within the existing industry and looking at opportunities with new entrants. At MedStack, in particular, we're excited about what this means and the undeniable new avenues presented to digital health startups:
Apple's play is in transforming the iOS Health app into a personal health record, already being integrated with several hospitals, which apps will have an avenue to interface with
Google's play is in standardizing machine learning tools for developers that bring together data from EHRs, genetics, wearables and consumer apps to draw new insights and conclusions
Amazon's play is in bringing its retail and commerce expertise to offering new channels for pharmaceuticals and medical insurance to individuals and businesses, and offering these channels to be supported by app features
Facebook, it's rumoured, will explore the recommendation of third-party medical services based on its user profiles (though we're watching carefully to determine the privacy implications of this)
The engine behind these transformations is highlighted by Mr. Nagpal's statement that changing the cost dynamic of healthcare delivery is the most important innovation driver in the industry, not just "patient experience". Let's change the way that healthcare is delivered in a marked economic manner, and this then allows us to do more. Care anywhere, Smarter care through AI, and more effective care through digital collaboration tools (MedStack's framework of the three focus areas of digital health startups) are all about cost improvements in this very cash-strapped industry.
The revolution is coming. We need to enable the supportive ecosystem to take advantage of it, exactly as Mr. Nagpal passionately iterates. This is why MedStack exists. I came away from the event not only thankful for our ongoing relationship with Dreamit, but also excited about the new opportunities that came from the event. The foundation we've been building for the past three years (just wait til you see what we've got coming in 2019!) is set to play a big part in the biggest transformation that this most important industry has ever seen.